If a June night could talk, it would probably boast that it invented romance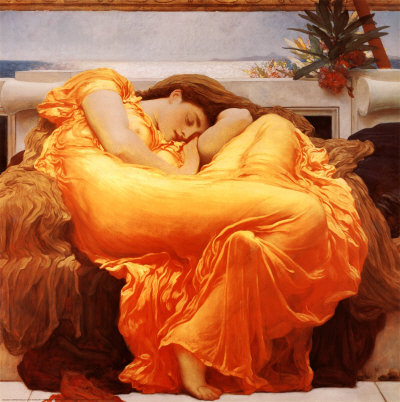 Bit of a skeletal issue this month, peeps, due firstly to our trip to sample the joys of the seaside in Spring, and also to my misguided combination of the computer keyboard with Pepsi Max (other canned drinks are available).

The attractive lady to the left there is "Flaming June", painted by Frederick Leighton in about 1895, and the bright little green chappie up there top left is a June Bug. And to wrap this intro up, here's a rather nice quote that Ellen gave me -

Then let us, one and all, be contented with our lot;
The June is here this morning, and the sun is shining hot;
Oh! let us fill our hearts up with the glory of the day,
And banish ev'ry doubt and care and sorrow far away.
- James Whitcomb Riley
Birthstone for June - PEARL

June Flower - ROSE

"By her who this month was born
No gem save Pearls shall be worn
They will ensure her constancy
True friendship and fidelity."

The healing properties of pearls are reputed to be effective for health problems relating to the heart, spleen, stomach, intestine & ulcer problems. Pearls are found in the Persian Gulf, the Gulf of Mannar, the South Pacific, the Gulf of California, the Gulf of Mexico, the Pacific coast of Mexico, Europe, Japan and Australia. The traditional colour associated with the Pearl is milky white and it was strongly favoured in Victorian jewelry. Pearls actually come in a wide variety of colours ranging from white to black, and might be classed as white, silver, cream-colored, gold, green, blue or black. The word Pearl is derived from the Latin word "pirum" which means "pear" - this reflects the shape of the gem. It has a smooth lustrous round structure having a brilliant lustre, with varying tints, and is found inside the shell of a mollusc such as a clam or oyster. It is formed due to a secretion of shelly substance around some irritating foreign particle (although some authoprities dispute this). Its substance is the same as nacre, or mother-of-pearl. Cultured pearls are made by molluscs but with human intervention (an irritant introduced into their shells causes a pearl to grow). A good sized pearl can take between five to eight years to form, which is usually the entire life of the mollusc. The cost depends on the size and the coating, or nacre, on a real pearl which gives it its iridescence.

A rose is a flowering shrub of the genus Rosa, and the flower of this shrub. There are more than a hundred species of wild roses, all from the northern hemisphere and mostly from temperate regions. The species form a group of generally prickly shrubs or climbers, and sometimes trailing plants, occasionally reaching as high as 20 metres by climbing over other plants.
The name originates from Latin rosa. Rose hips are sometimes eaten, mainly for their vitamin C content. They are usually pressed and filtered to make rose hip syrup, as the fine hairs surrounding the seeds are unpleasant to eat (resembling itching powder). They can also be used to make herbal tea, jam, jelly and marmalade. Rose hips are also used to produce an oil used in skin products.

Rose Tyler is a fictional character played by Billie Piper in the long-running British science fiction television series Doctor Who. A shop assistant from London, she became a companion of the ninth and tenth incarnations of the Doctor. And in the absence of a Men's Corner this month, I just want to say that she's a babe.
LET THEM EAT CAKE ~ ~ ~ ~ ~ ~ ~ ~ ~ birthdays by Ellen

YERDUA-(Audrey)-22nd
MARQUITA1-22nd
AMYWILLSUCCEED-(Amy)-23rd
KALINDRIA-25th
REREBIGMAMA-(Rere)-29th

Many happy returns to all of you.
ANNIVERSARIES

HELENGMORRIS June, 11, 1999 Stopped smoking
DWMW613 June 13, 1997 Got Married
WOMBAT37 June 23, 2008 Married (yikes) 30 years
SUSAN5599 June 28, 2008 Married 6 years

OUR CONGRATULATIONS TO YOU ALL!
Jenna

Welcome new friends!

Team member Jenna (JENNA2007CANADA) passed away on May 13 after a very brave battle against many systems failing in her body, which started with a leech bite while she was in Africa. She was well-respected on the team, and a valued contributor to the newsletter. Our own Janine gave me the news, and I hope she doesn't mind if I quote from her mail, which says it all -
"I always loved her on this team as she was such an inspiration to us all.. a body transformation (going from a size 22 to size 2 ), new marriage, and a whole way of life that was good to the earth and all of us. I went to her other teams and read some of the blogs by her family..you can pick them up on her sparkpage..her family is overwhelmed by the sparks remarks... she was an infrequent poster..but she always made such a great inpression and kept our hopes up with her wonderful successes. It just really saddens me that such a vibrant life-loving person can be gone in such a short time with a seemingly tragic start. I did read that the tumor had been gowing for some time and it was the final crisis..may have been trouble down the road but without the systemic infection..maybe they could have saved her. It certainly puts your life into perspective..such a gift to have each day..we really do need to make the best of it and tell those around us how much them mean to us everyday! Life is indeed precious..I am thankful for my sparks family and friends and never take for granted the time I have here."
Thank you Janine, and thank you Jenna. R.I.P.

SUNNI888 is from either Honolulu or Queens (I'm confused) and enjoys Hawaiian quilting (which is different to other quilting how? I'm confused again).
Linda (BUNCOLADY61) lives in the Show-Me State (confused) and plays Bunco (confused) with 11 other ladies. If I had 11 ladies at my disposal, my mind would not be on Bunco.
SULTRYRED (Donna) is an old friend, rejoining us after knee surgery. For those of you who don't know her, she walks her dog everyday, rain or shine, and just loves to dance her butt off.
CROTTY (Nancy) says she enjoys starving (confused), swimming, an keeping a happy outlook! Hooray to the last of those!
Hello Patricia (THINLIKEME)! You say that you really don't have too much weight to lose, but keep falling off the bandwagon because you get lazy. You'll love this team, then, because we've all been there!
Sharon (SAWATERS58) was 50 on the 19th of May and wants to look and feel better for the rest of her life. Lets just take a moment here - join in,folks, cos we missed it on the 19th - Happy Birthday To You, Happy Birthday To You, Happy Birthday Dear Sharon, Happy Birthday To You And Sorry We Missed It By A Bit But Better Late Than Never!
RAIDERDAVID has only just begun setting up a Sparkypage, so I can't tell much about him. Or her, I suppose. Kind of hoping that the 'David' part means its a bloke, because there aren't enough of us to resist the girl power in here.
LAUREE1 is hoping to lose some weight this time with the help of this site. Stick with us, you'll get there!
Wendy (WENDYKELLEY3887) is in about three million teams (hope you get a chance to see this!), is from Connecticut, and is 49 years old.
Colette (ooh, nice name!), or LCEATON, has lost 63 pounds since gastric bypass surgery in January. Healthy living, that's what you need now, Colette (love saying that name).
MRSDETROIT1953 has already lost 45 pounds! Awesome, but she wants to lose more - hey gang, let's help her out, eh?

I can't tell you about, because I couldn't find a Sparkpage for, CURVALICIOUS1, MEFISCH, PEGGY531, CHRISSTOCKWELL, SWEETPKM, BLUETARP, CHUBBOY, KATHRYN8519 and GRAMMABANANA1 (sadly, cos what a great user name!)(STOP PRESS; Grammabanana just signed the Guest book, so hi to Shanna!)
Hi Viv! Lets see how good your lurking actually is! Will you spot yourself nestling in this little niche, or are your eyes going too? We miss you, honeybunch xxx
SPARKIE on the STREET ~~~~~~~~~~~~~~~~~~~~~~~~~~~ by KIM

Every month, our intrepid roving reporter, KIM, asks members of Fifty Plus For All their views on a variety of questions. This month...

... she hasn't. Instead, following recent discussions on the Free 'n' Easy team, Kim has provided the following about Colonoscopy, which we thought worthy of a wider audience.

As far as the colonoscopy, you SHOULD have one after age fifty, at least here in the States it's recommended.

A flexible tube is inserted (you have to know where) and there is a tiny camera on the end which can locate any polyps or irregularities. I had to drink a prep to clean out my colon (it actually feels quite good to know you're squeaky clean inside!) the evening prior, and then you go to a surgery center and I was there for a grand total of two and a half hours, the procedure only taking up 30 minutes of that time period. The rest is prep (dressing in a hospital gown) and recovery (you are not aware ot the goings-on and you wake up wondering why you're passing gas...).

This procedure has saved so many lives. It can catch cancer before it takes hold in your body. I don't have to have another one for ten years!

Wombat here - as most of you know, I live in the UK, so I'm quite pleased that I can choose to follow UK recommendations instead, which are that you MAY need a colonoscopy only if any of the following happen:
* You're over 40 and you've had both blood in your
stools AND a change in bowel habits for at least six weeks
* You're over 60 and you've had one or both of these symptoms for at least six weeks.
* You or your doctor can feel a lump in your abdomen, or your doctor can feel a lump in your rectum when he or she examines you internally
* You've had polyps before, or have a family history of bowel cancer
* A blood test shows that you have anaemia.
* You've had another test, such as a barium enema, that shows you have a problem in your bowel.
They reckon that if you have these symptoms, you can expect to have a colonoscopy within two weeks of seeing your doctor. Also, men and women over 60 in England are invited to take part in a national screening programme for colon cancer.
RECIPE ~~~~~~~~~~~~~~~~~~~~~~~~~~~~~~~~~~~~ by Susan
Everybody loves pasta! Josie found this out with her post "The New Pasta Diet" that reeled a lot of us in. Here's a pasta recipe that tastes great, is easy to make, and is low in calories and fats. Pair it up with whole wheat spaghetti or pasta and you've got a fantastic filling low-cal meal.



CHICKEN PASTA SAUCE:

Ingredients:

1 cup Water
1 teaspoon Salt
1 teaspoon Sugar
1 teaspoon dried Oregano Leaves (1 tablespoon if fresh oregano)
3/4 teaspoon dried Basil Leaves (2 teaspoons if fresh basil)
1/2 teaspoon dried Marjoram Leaves (1 teaspoon if fresh marjoram)
1/4 teaspoon dried Rosemary Leaves (1/2 teaspoon if fresh rosemary)
1 large Onion, chopped
1 clove Garlic, crushed
1 Bay Leaf
1 (8 ounce) can Tomato Sauce
1 (6 ounce) can Tomato Paste
1 1/2 cups Cooked Skinless & Boneless Chicken Breast, chopped

Heat all ingredients except chicken to boiling in a 2 quart saucepan; reduce heat. Cover and simmer 30 minutes, stirring occasionally.

Stir in chicken. Cover and simmer 30 minutes, stirring occasionally. Remove bay leaf before serving.

Nutrition Information Per Serving:

Calories: 106; Total Fat: 2g; protein: 13g; carbohydrates 11g; Dietary Fiber: 2g; Cholesterol: 30mg; Sodium: 837mg

A great accompaniment to the pasta is a fresh salad featuring marinated vegetables. This recipe is very easy and very tasty, too.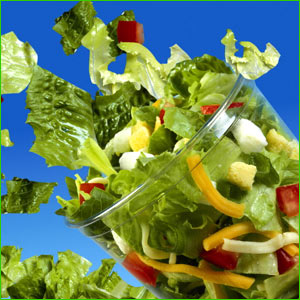 ZESTY SALAD TOSS:

Ingredients:

1 (8 ounce) bottle Fat Free Italian Salad Dressing
1 cup Green Bell Pepper strips
1 cup Red Onion rings
1 cup Tomato wedges
3/4 cup Carrot slices
Mixed Salad Greens
2 cups Croutons (optional)

Pour the dressing over the green bell pepper strips, red onion rings, tomato wedges, and carrot slices in a glass bowl. Cover and marinate in the refrigerator for several hours or preferably overnight. When ready to serve the salad, drain the vegetables and reserve the marinade to be used as a salad dressing on the side.

Combine the mixed salad greens and the marinated vegetable mixture. Add croutons if desired. Toss lightly and serve with reserved marinade.

Nutrition Information Per Serving (croutons not included):

Calories: 33; Total Fat: 0.3g; Cholesterol: 0.2mg; Sodium: 91.8mg; Carbohydrate: 7.3g; Dietary Fiber: 1.7g; Protein: 1.1g.
ELLEN'S JUNE FACTOIDS

YOUR CALENDAR FOR JUNE

According to the Georgian calendar, which is used over most of the world today, June is the sixth month. On the Roman calendar, it was considered the fourth month and had only 29 days. Julius Ceasar gave the month 30 days in 46 B.C., when he reformed the Roman calendar.
Spring ends and summer begins around June 20, 21, or 22 in the Northern Hemisphere. It's the time that the flowers are beautiful. It is especially the month for roses. In the Southern hemisphere, winter begins during June, and it brings cold, rainy weather to this part of the world.

Flag Day is observed in the United States on June 14. It commemorates the day in 1777 when the Continental Congress adopted the Stars and Stripes as our flag. It then had only 13 stars, to match its 13 stripes. It's not an official national holiday, but in Pennsylvania, it is a legal holiday. The President has proclaimed a public flag day observance every year. It was first observed to celebrate the 100th anniversary of the selection of the flag. President Harry S. Truman officially recognized June 14 as Flag Day by signing the National Flag Day Bill.

The Phillippines' Independence Day is on June 12. Sweden celebrates flag day, its national holiday, on June 6. Finland's flag day is the Saturday closest to June 24.

The JUNE BUG (see top left of page) also known as June beetle, is the name for several large beetles seen in the United States during May and June. They are usually seen at night, when the light attracts them. June bugs eat the young leaves of trees and plants. They deposit their eggs in the ground. The young larvae bury themselves in the soil in the autumn and stay there two years. They then come out in May or June as adult beetles.

Not a Calendar as such this month, rather a list of interesting June events...
Kentucky became the 15th state, June 1, 1792.
Tennessee became the 16th state, June 1, 1796.
De Soto claimed Florida for Spain, June 3, 1539.
U.S. Senator Robert F. Kennedy shot by an assassin June 5, 1968. Died the following day, 1968.
YMCA organized in London, June 6, 1844.
Cole Porter, American composer, born June 9, 1893.
Prince Philip, Duke of Edinburgh, born June 10, 1921.
George Bush, 41st President of the United States, born in Milton, Massachusetts, June 12, 1924.
Continental Congress adopted the Flag of the United States, June 14, 1777.
Hawaii organized as a territory, June 14, 1900.
King John granted Magna Carta, June 15, 1215.
Charles Goodyear was granted a patent for rubber vulcanization, June 15, 1844.
United States declared war on Great Britain, June 18, 1812.
Sioux Indians massacred Lieutenant Colonel George Custer and his troops at the Little Bighorn, Montana, June 25, 1876.
Click the cartoon to visit the Savage Chickens website.