Sorry, Jody...
First, my apologies to Jody, for we have music AND video this month, and I know she gets cross because she can't hear or see them due to her computer being steam-driven and made of cardboard. I'm sure you'll find plenty of groovy reading anyway, Jody.
I also owe apologies to one of our new team members this month - unfortunately I'm not sure who - because they sent me their birthday and anniversary details in a Sparkymail which I accidentally deleted when I had a purge of the three hundred or so sitting in my Inbox. Sorry!
Have you seen Prince Caspian yet? Such a good movie, as you colonials call them, really good fun and pure escapism. If you haven't already, go see it - but steer clear of the popcorn! Do what I do; take a bag of carrots in with you.

Listen While You Read

July Music

Here's this month's playlist - everyone should be able to spot the theme. If you can't, you're in big trouble!
Birthstone for July - RUBY

July Flower - WATER LILY *

This months naff poem is -
"The gleaming Ruby should adorn,
All those who in July are born,
For thus they'll be exempt and free,
From lover's doubts and anxiety."

The poem, while naff, reflects some of the properties with which the Ruby is associated - devotion, integrity, courage and happiness. The traditional metaphysical properties for rubies are vitality, confidence and strength. Rubies are reputed to be effective for health problems relating to the blood and infection and increasing positive thought patterns. Rubies are also said to enhance energy, generosity and to bring prosperity and success, although if you own a ruby presumably prosperity is not something you are short of in the first place. Rubies are found in Burma, Thailand, Vietnam, Sri Lanka, Kenya, Tanzania, Cambodia, Afghanistan and India. The traditional colour associated with the Ruby is deep red.
The word Ruby is derived from the Latin word "ruber" which means "red". The precious stone is of a carmine red colour, sometimes verging to violet. It is a red crystallized variety of corundum. The Ruby is a member of the Corundum (aluminum oxide) family, and its crystal structure is Hexagonal (trigonal), dipyramidal. Rubies are extremely hard, second only to diamonds.

Nymphaeaceae is a family of flowering plants. Members of this family are commonly called water lilies and live in freshwater areas in temperate and tropical climates around the world. There are about 70 species of water lilies around the world. Water lilies are rooted in soil in bodies of water, with leaves and flowers floating on the water surface.
Horticulturally, water lilies are divided into two main categories: hardy and tropical. Hardy water lilies bloom only during the day, but tropical water lilies can bloom either day or night, and are the only group to contain blue-flowered plants. Water lilies can be fragrant, such as Nymphaea odorata.

* Although some sources suggest the Larkspur, also called lark's heel (Shakespeare), lark's claw and knight's spur. The scientific name (Delphinium) is taken from Dioscorides and describes the shape of the bud, which is thought to look like a rather fat dolphin. According to Greek legend, Achilles' mother requested her son's armor be given to the most heroic Greek warrior during the battle of Troy. The armor was awarded to Ulysses, not Ajax. Ajax threw himself on his sword and small blue delphiniums sprung from his blood that fell to the ground.
The larkspur symbolizes an open heart, good luck, ardent attachment, lightness and swiftness. The petals are marked with the Greek letters "AI", the Greek cry of mourning.

LET THEM EAT CAKE ~ ~ ~ ~ ~ ~ ~ ~ ~ birthdays by Ellen
We certainly have a lot of birthdays in July! Here goes.....
| | |
| --- | --- |
| ROOTLADY1000 (Reade) | 1st |
| CARRIEWILLLOSE (Carrie) | 2nd |
| JENNA2007CANADA (Jenna) | 4th - you do know that Jenna passed away, but had many friends here! I think it would be nice to mention her. |
| RAMBOETTE (Maria) | 4th |
| KECHARRA (Mary Beth) | 4th |
| HENRYSMOM0215 (Di) | 7th |
| DEEKEN (Dee) | 12th |
| SUG@RPANTS (Sharyn) | 14th |
| YOSOYLINDA (Linda) | 15th |
| BIGDRUNNER (Don) | 17th |
| BARB1947 (Barb) | 26th |
| GOLFINGIRL (Tana) | 27th |
| HOPTOIT | 31st |
| REDHATTER54 | I don't know the date-She probably just likes to celebrate all month! |
LET THEM EAT CHOCCY ~ ~ ~ ~ ~ ~ ~ ~ anniversaries by Wombat

MAAMOU July 4, 2001 Wedding Anniversary
SUSAN5599 July 11, 2007 Joined SparkPeople
BIGDRUNNER July 17, 2008 Married 21 years
ELLENE1955 July 24, 1993 Wedding Anniversary
DWMW613 July 24, 2006 Joined SparkPeople
FREELISA July 27, 2007 Quit smoking

OUR CONGRATULATIONS TO YOU ALL!

Take Me To Your Leader
A chance for you to get to know your Fifty Plus For All team leaders a bit better. I know that we have Sparkpages, and there's the tiny intro on the Home Page, but a lot of our team members, especially the newer amongst us, might well gloss over that. So here, in our own words, is a bit about ourselves.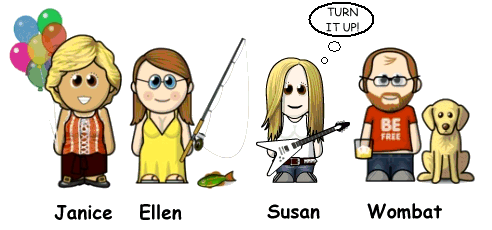 Janice - FLASUN

"This picture is about the only one that I had kept to scan in out of all my pictures. I would say it was probably taken in 1975 when I was dating my DH ....and we married on Valentines Day 1976. What I can give you as a description of myself? I was born premature by 2 months and weighed only 4 lbs at birth. From the age of seven or eight I started to get my weight to a chubby size. So I guess since birth I would say my weight only grew as I got older. My heaviest weight was 197 lbs, when I decided I'm getting close to that 200 lbs and need to do something. I lost at least 20 lbs on my own, and then I had my operation for cyst on ovaries and started gaining again in June 2007. I have to say everyone I've met and knows me says I'm a very Sweet, Caring & Loving person with not a bad bone in my body, which some day will be at a size 10-12 !!!

Ellen - ELLENE1955

As you know from my Username, my name is Ellen, and I was born in 1955. I have 3 grown children who I adore! I love spending as much time as possible with them. I have a stepson and a stepdaughter as well, and a total of 5 grand-daughters. Along with my DH, Jere, they make my life worthwhile and complete in every way! I have 2 basset hounds named Daisy and Flash. Daisy recently gave birth to her 2nd litter of puppies, which we are enjoying sooo much! My hobbies are bowling, SP, crafting, watching the Packers & Brewers, and camping. I LOVE to travel, and my DH and I have enjoyed 3 wonderful cruises! A favorite pastime is to get outside for a long walk, and really enjoy the beauty that God has given us.
I work in a Christian Daycare, as a Head Teacher in the Infant Dept. It is a very rewarding job, and I feel very blessed to be there! I also have a cleaning business, aside from my full time job.
SP has been a great help to me! I have made some wonderful friendships here, and learned a lot from others struggling with the same issues. I have shared laughter ,tears, and personal feelings, with people that I have never met. But, in my heart, they feel like close friends that I have known for a lifetime!

Susan - SUSAN5599

Hi, Everybody! Michael (Wombat) in his infinite wisdom came up with this wonderful idea to post a little bit of information on your team leaders written, of course, by the leaders in their own words. I jumped at the suggestion we write something about ourselves. Left to his own devices who knows what he'd write about us! Our reputations would never be the same again! Well, here goes the story of Susan5599:
Long, long ago in 1952 in the little town of Washington, DC I was born to wonderful human parents. My darling husband, Evan, begs to differ on that point and says I must be a reptile since I hate being cold and 90 degrees Fahrenheit is just so very comfy to me. I was raised in the northern Virginia/Washington, DC area and my family, except for one brother in Los Angeles, still lives there. I've lived in Virginia, South Florida, and Georgia; and have traveled over much of the U.S. as well as to Jamaica, Mexico, Brazil, Canada, Ireland, Germany, Lichtenstein, Austria, and Switzerland. Most of the traveling my husband and I do is done on our 2005 Harley Davidson Dyna Motorcycle. All of our U.S. and European traveling we did on 'ironhorseback'. June 28th was our 6th wedding anniversary and he's the love of my life. We both work in fields related to land development. Evan is a Registered Land Surveyor and my area of expertise is in land planning and civil engineering design review. I have no children, but my husband has one 19 year old daughter. Currently, we live in a little rural town in north Georgia with our two German Shepherd Dogs and assorted wildlife, and keep ourselves busy doing historical Civil War and Living History Re-enacting. Oh, I hear you now - "What brought you to SparkPeople?" Well, the magic of the Internet brought me here just like it did each of you. Our reasons for being here are pretty much the same, too: To learn to eat healthy foods and to form a healthy lifestyle. Losing weight is a given if we follow the 'formula'. All my life I battled with food. Having a mother who was a member of the 'Clean Plate Club' insured my being a member. Most of my life I was thin because I hardly ate. I had food phobias for every manner of food. In my mid-20s I started to gain weight. By the time I was in my mid-30s I weighed around 225 pounds. My weight yo-yo'd up and down until I finally just got fed up and joined WeightWatchers in 2003. I was 178 then and lost 25 pounds. I joined SparkPeople in August, 2007 and have lost an additional 12 pounds. With my bad knee and back my doctor wants me to lose an additional 8 to 10 pounds, and that's my goal. Considering the medication I'm on, it's a hard trial, but with you all and SparkPeople behind me I'll make it. I hope my little 'tale' helps you to get to know me a bit better. Please check out my SparkPage, too, for more information about me. Whatever I can do to help you reach your goal, just ask me and together we'll be able to get there! Take care and happy trails to you!!!

Michael - WOMBAT37

When I was born in black and white in South Yorkshire in 1951, the UK was just beginning to emerge from years of austerity. Me Mum therefore thought that the nicest thing you could do for children was to give them huge steaming platefuls of food at every meal. I loved it. For many years, I managed to keep my weight down through sport - rugby, cross-country running, football, pub-crawls - but as the decades passed my weight grew, until I was a magnificent 120kg (264 pounds). I didn't KNOW that, as I never weighed myself, just knew I was a big feller.
Then I stepped on a scale, and the fright drove me to the arms of Google, which told me all about SP. I joined last August. By January, I had lost about 70 pounds, thanks mostly, I have to say, to the good people of this team. They give me willpower when I think I have none, and tell me off when I need it. Since then the weight has come off more slowly, but it is falling, and I'm now very close to my goal. I know SP works; and I want to help other people become what they want to be, too.
Here's a few facts, all true except one (can you figure out which?). I used to own a computer company, now don't work at all. I live in a two-hundred-year-old house in Lancashire in the green foothills of the Pennines. I've been married to the most wonderful woman in the world for almost 30 years, have two teenage daughters who I try to embarrass regularly, and a big hairy yellow dog who farts a lot, probably because he eats cow-poo. I invented "Trolley-Nav", the directional system used by UK supermarkets to direct customers to the goods they require ("Turn left in 2.5 feet. You have arrived at Black Pudding"). We're hoping to break into the USA market next year, as Walmart are sniffing around.

MEN'S CORNER ~~~~~~~~~~~~~~~~~~ by DON
Words of Wisdom from the heterogametic sex
5 Easy Ways to Increase Your Manpower - how to tap into your secret source of sexual stamina, energy, and drive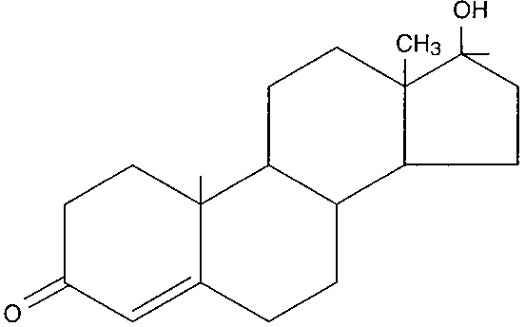 A testosterone shortage could cost you your life. As if losing muscle mass, bone density, and your sex drive to low T levels wasn't bad enough, new research shows the decline can also increase your risk of prostate cancer, heart disease, and even death. Follow these steps to lift your levels and lengthen your life.

1. Uncover Your Abs
As your waist size goes up, your testosterone goes down. In fact, a 4-point increase in your body mass index -- about 30 extra pounds on a 5'10" guy -- can accelerate your age-related T decline by 10 years. For a diet that'll help keep your gut in check, try the new TNT Diet.

2. Build Your Biceps
Finnish researchers recently found that men who lifted weights regularly experienced a 49 percent boost in their free testosterone levels. "As you strengthen your muscles, the amount of testosterone your body produces increases," says David Zava, Ph.D., CEO of ZRT Laboratory. You need to push iron only twice a week to see the benefit. For a 6-week muscle plan, take the MH Challenge.

3. Fill Up On Fat
Trimming lard from your diet can help you stay lean, but eliminating all fat can cause your T levels to plummet. A study published in the International Journal of Sports Medicine reveals that men who consumed the most fat also had the highest T levels. To protect your heart and preserve your T, eat foods high in monounsaturated fats -- food such as fish and nuts.

4. Push Away From The Bar
Happy hour can wreak havoc on your manly hormones. In a recent Dutch study, men who drank moderate amounts of alcohol daily for 3 weeks experienced a 7 percent decrease in their testosterone levels. Limit your drinking to one or two glasses of beer or wine a night to avoid a drop in T.

5. Stop Stress
Mental or physical stress can quickly depress your T levels. Stress causes cortisol to surge, which "suppresses the body's ability to make testosterone and utilize it within tissues," says Zava. Cardio can be a great tension tamer, unless you overdo it. Injuries and fatigue are signs that your workout is more likely to lower T than raise it.
Thanks Don. Now, where did I put my testosterone... ah, it's here, under this huge pile of ironing.

Welcome New Friends!

Welcome Old Friends!

FEMALE_COLUMBUS is Vicki in Ohio, who loves hockey and the Blue Jackets so much that she decided to learn how to play.
DALE0529, unsurprisingly, is called Dale. Her favourite authors are Nora Roberts, Stephen King, JK Rowling, Terry GoodKind, and so many more. She loves roller coasters and amusement parks. (they make the Wombat feel poorly).
JOANNS4 (Jo Ann) works hard each day to take care of herself and exercise is a must along with making healthier food choices. Life is good, she says.
CTOMEK1-123, although sounding like R2-D2's best buddy, is in fact a teacher in Montana, and has 3 grown children, one girl and 2 boys, and one 2 year old grand-daughter.
NOSPRINGCHICK is from Cardiff (which sits on a time rift, but Torchwood have it in hand). Tis good to have the Welsh with us. Cymru am byth.
TERITECH is looking to lose weight and be healthier; she has been on SP for some time already, and has done incredibly well so far.
LOOSEIT57 lives in Munno Para West South Australia. She has also been doing spark for a little while now, and really enjoys talking to and meeting new people.
HAYSEL is a life-filled terminally ill (whatever that means - since age 8) half century old grandmother of 3 and retired health/fitness coach, computer nerd, etc.
YELLOWLYN has worked out how to cuild her Sparkpage AND put photos on, so go take a look. She wants to wear nicer, more attractive clothes AND (this is one that the Wombat can relate to) be able to put her own socks on.
CARLI_MAE (Carli) was born in Chicago, of Italian parents -- a heritage of which she is rightly very proud, although they were unlucky in the Euro 2008 soccer championship.
CJISHEALTHY is commited to taking better care of her body, mind and spirit.
MBUCKLEY458 has one of the Wombat's favourite profile pics, lives at the Jersey Shore, and would like to look good in a bathing suit again.
JSCHROETER could be either male or female; I hope J (can I call you 'J'?) enlightens us soon. J says "My motivation level is in the basement!" Lets motivate J, team!
22MARGARITAS (Sharon) has a lovely smiley photo of her and her daughter on her Sparkpage, and says her user name is a combo of her favourite age and her favourite drink. Following that logic, I would be 56LAPHROAIG.

Welcome all of you, including two people I couldn't find a Sparkpage for - KARIM11, LROLUND

Two of our Newbies this month are already well-known to many on the team, as they used to be long-standing members themselves, and have just rejoined. A brief pen-picture didn't seem quite right in their case, so here are Tana and Viv to speak for themselves.

"My name is Tana and I live in the desert of WA state, yep... I said desert. I am the Mom of 4 grown kids and have 3 beautiful grand kids that are the love of my life. I've been married to the same great guy for 23 years. We are avid golfers and spend lots of time at the golf course either playing or practicing. We love to travel and do lots of it, either for work or just for fun. I've been fighting my weight my whole life and would like nothing more than to never worry about it again but I know that will never happen. It will be a life long issue with me so that's why I'm here, to gain encouragement and support from people who share the same issues with their weight that I do. In the process I'm sure I will gain new friends and continue to build stronger relationships with my old friends. I look forward to sharing this journey to better health with each and every one of you."

Thank you, Tana. And here's Viv...

"I spent quite a while on sparks and did great. Totally motivated and encouraged. Had some personal issues that took me away for a while..but I'm back to get off the few pounds I gained when I quit smoking.
My life is pretty wonderful...my husband of 37 years, three daughters and a son, three granddaughters and a step granddaughter, plus my extended family keep me busy.
I clean houses for a living, refinish furniture for pleasure and profit.

I originally joined sparks with the determination of the little engine that could....he was determined to get over that mountain no matter what. He did it, inch by inch as those of us fighting that mountain of weight do...one tiny bit at a time. However, perseverance, tenacity and inner belief in one's self is the only way it can be accomplished..and I need to dig back into those resources...and do what I did before! GET HEALTHY in the right way!"
SOME RANDOM STUFF ABOUT JULY
The picture over there is "July 11 Farm Sunset" by Toni Grote. Click the picture to visit her website.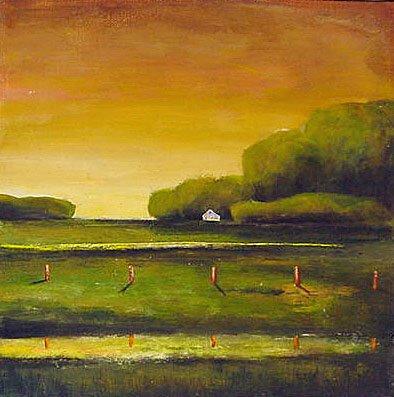 Just after the death of the flowers,
And before they are buried in snow,
There comes a festival season
When Nature is all aglow..

According to the Gregorian calendar, July is the seventh month. On the Roman calendar, it was the fifth month and it was called 'Quintilis', menaing 'fifth'. Julius Ceasar gave the month 31 days in 46 B.C. The Roman Senate named it 'Julius', in honor of Caesar.

July is usually the hottest month of the year in the Northern Hemisphere. July is one of the winter months in the Southern Hemisphere. The climate is mild in most of the Southern Hemisphere, with the exception of the COLD Antarctica, and the cold, rainy part of South America.
SPARKIE on the STREET ~~~~~~~~~~~~~~~~~~~~~~~~~~~ by KIM

Every month, our intrepid roving reporter, KIM, asks members of Fifty Plus For All their views on a variety of questions. This month...

...the question posed to members was: "What is your favorite 'three ingredients or less' food choice for when you want something quick?"

TOBEGREAT says she mixes a cup of frozen wild blueberries with 6 ounces of Stonyfield or Trader Joe's Blueberry Organic Yogurt. She compares it to a big bowl of blueberry ice cream, but she also says it's probably not for low carb eaters. (Cal: 199, Carbs: 42, Fat: 1, Protein: 8)

ELLENE1955 (Ellen) makes a big salad, tops it with light dressing, and adds chopped grilled chicken. She says it's quick and easy to make, filling and lo-cal.

MORRISDATTER (Stephanie) blends frozen berries, a pear (canned in either its own juice or apple juice), and a little bit of the juice from the pear to make a sorbet. If she doesn't want to do even that much work, she throws a handful of berries in a bowl with half a pear and about 3 tbsp. of juice and eats it that way. She claims the natural sugar in the fruit satisfies her need for sugar.

UNSURE treats herself on Sundays to a banana cut up with wheat germ and cinnamon (1/2 to 1 tsp. of each).

NANASAN (Sandy) whips up grilled chicken, veggies,and a baked potato after a long day at work.

SMASHY1 (Vivian) chose beans, rice and salsa as her favorite three-ingredient meal.




SUSAN5599 (Susan) tells us her favorite is 8 ounces of fat free yogurt with chopped fresh fruit on top or mixed in and a tablespoon of granola sprinkled on top. Combos she likes are strawberry yogurt with sliced bananas, mixed berry yogurt with blueberries and/or raspberries, and lemon yogurt with mandarin orange segments. She recommends that you make your own combo! It'll be your favorite treat, too!

FLASUN (Janice) doesn't even need three ingredients to make her happy. She likes the good old hard boiled egg, and keeps them in the fridge peeled and ready to go! Another favorite is a Kashi TLC Pumpkin Spice Flax Granola bar; two come in a pack for only 180 calories.

WOMBAT likes rice cakes smeared with Vegemite - they're scrumdiddliumptious and calorie-free. Well, almost.

Thank you, SparkFriends, for your participation! Keep your eyes peeled for August's "Sparkie on the Street" question which you'll find on a thread toward the end of July! And tell Kim if you have any suggestions as to a question you would like polling.
The Treadmill Workout

Follow this video to give yourself a really good workout! (If you actually do, please have your significant other filming it so that we can all have a laugh later).
Let's Cook With Susan!
IT'S JULY AND TIME TO HAVE A COOK-OUT!!
Maple Glazed Chicken Kabobs
Ingredients:
1/2 pound skinless boneless chicken breast halves
3 Tablespoons reduced-calorie maple-flavored syrup
2 Tablespoons lemon juice
1 Tablespoon margarine, melted
1 1/2 Teaspoons chopped fresh sage
or
1/2 Teaspoon ground sage leaves
1 Teaspoon grated lemon peel
1/4 Teaspoon pepper
1 medium bell pepper, cut into 16 pieces
1 medium yellow summer squash, cut lengthwise in half, then cut crosswise into 16 pieces

Remove fat from chicken. Cut chicken into 24 pieces. Mix remaining ingredients except bell pepper and squash in large glass or plastic bowl. Stir in chicken, bell pepper and squash. Cover and refrigerate at least 4 hours but no longer than 24 hours.
You can either cook on the grill or oven broil this tasty kabob. These are the oven cooking directions: Set oven control to broil. Thread chicken, bell pepper, and squash alternately on each of eight 8-inch skewers. Place on rack in broiler pan. Broil with tops 4 inches from heat 2 to 3 minutes; turn. Broil 2 to 3 minutes longer or until chicken in no longer pink in center.
Nutritional Information, Per serving:
Calories 62; Fat 2g; Protein 7g; Carbohydrate 4g; Dietary Fiber 1g; Cholesterol 16 mg; Sodium 47 mg

Creamy Country Potato Salad
Ingredients:
1 pound medium red potatoes, cubed (2 1/2 cups)
1/2 Cup reduced-fat buttermilk
1/4 Cup lemon juice
2 Tablespoons reduced-fat mayonnaise or salad dressing
1 Tablespoon Dijon mustard
1 Tablespoon chopped fresh thyme
or
1 teaspoon dried thyme leaves
1/2 teaspoon salt
1 medium stalk celery, chopped (1/2 cup)
1 small bell pepper, chopped (1/2 cup)
Heat 1 1/2 quarts water to boiling in 2-quart saucepan. Add potatoes. Cover and heat to boiling; reduce heat. Simmer 10 to 15 minutes or until tender; drain.
Mix buttermilk, lemon juice, mayonnaise, mustard, thyme and salt in large glass or plastic bowl. Add potatoes, celery and bell pepper; toss. Cover and refrigerate about 2 hours or until chilled.
Nutritional Information: Calories 92; Fat 2g; Protein 3g; Carbohydrate 18g; Dietary Fiber 2g; Cholesterol 2mg; Sodium 264mg
ELLEN'S JULY FACTOIDS

YOUR CALENDAR FOR JULY

The British North America Act went into effect, establishing the Dominion of Canada, July 1, 1867.
Battle of the Somme began in World War I, July 1, 1916.
Champlain founded Quebec, July 3, 1608.
Continental Congress adopted the Declaration of Independence, and John Hancock signed it, July 4, 1776.
P. T. Barnum, American circus owner, born July 5, 1810.
Amendment 26, which sets the voting age at 18 in the United States, was proclaimed, July 5, 1971.
Author Henry D. Thoreau born July 12, 1817.
Inventor George Eastman born July 12, 1854.
Andrew Wyeth, American painter, born July 12, 1917.
Mary Emma Woolley, American educator, born July 13, 1863.
Gerald R. Ford, 38th President of the United States, born in Omaha, Nebr., July 14, 1913.
Manitoba became a province of Canada, July 15, 1870.
Second Battle of the Marne in World War I began, July 15, 1918.
First mission in California established at San Diego by Father Junipero Serra, July 16, 1769.
District of Columbia established, July 16, 1790.
Mary Baker Eddy, founder of the Christian Science movement, born July 16, 1821.
Scientists set off the first atomic bomb, Alamogordo, N. Mex., July 16, 1945.
Spain officially turned Florida over to the United States, July 17, 1821.
Spanish Civil War began, July 17-18, 1936.
Samuel Colt, firearms inventor, born July 19, 1814.
First woman's rights convention in United States met at Seneca Falls, N.Y., July 19,1848
British Columbia became a Canadian province, July 20, 1871.
U.S. astronaut Neil A. Armstrong became the first person to walk on the moon, July 20, 1969.
First Battle of Bull Run, or Manassas, in the Civil War, July 21, 1861.
Ernest Hemingway, American author and winner of the Nobel Prize, born July 21, 1899.
Stephen Vincent Benet, American poet, born July 22, 1898.
The Mormons settled Salt Lake City, July 24, 1847.
Amelia Earhart, American aviator and first woman to fly the Atlantic, born July 24, 1897.
George Stephenson first successfully demonstrated a steam locomotive, July 25, 1814.
Louis Bleriot made first flight across the English Channel, July 25, 1909.
New York ratified the Constitution, July 26, 1788.
Playwright George Bernard Shaw born July 26, 1856.
Truce signed, ending Korean War, July 27, 1953.
Amendment 14, which defines United States citizenship, was proclaimed, July 28, 1868.
Booth Tarkington, American novelist, born July 29, 1869.
Henry Ford, American automobile manufacturer, born July 30, 1863.
First patent in United States registered, July 31, 1790.

During July, when there isn't much rain, the grass often loses it's greenness. Some flowers are abundant in July, because they strive on the heat. Also, insects are abundant as well - life is striving in July!

Independence Day is observed in the United States on July 4. On that day in 1776, the Continental Congress adopted the Declaration of Independence. In France, a similar holiday, Bastille Day, occurs on July 14. Several other countries celebrate national independence in July. Canada celebrates July 1 as Canada Day. Independence Day is celebrated in Venezuela on July 5; in Argentina, July 9; in Belgium, July 21; and in Peru, July 28.

| | |
| --- | --- |
| 1 | Canada Day |
| 4 | USA Independence Day |
| 7 | Tanabata |
| 14 | Bastille Day |
| 20 | Anniversary of Neil Armstrong's small step. |
| 25 | Feast of St. James |

Saint James, son of Zebedee, was one of the disciples of Jesus. James is described as one of the first disciples to join Jesus. The Synoptic Gospels state that James and John were with their father by the seashore when Jesus called them to follow him. The Acts of the Apostles 12:1-2 records that King Herod had James executed by sword, making him the first of the Twelve Apostles to be martyred.

Tanabata, meaning "Evening of the seventh", is a Japanese star festival, derived from the Chinese star festival, Qi Xi. It celebrates the meeting of Orihime (Vega) and Hikoboshi (Altair). The Milky Way, a river made from stars that crosses the sky, separates these lovers, and they are allowed to meet only once a year on the seventh day of the seventh lunar month of the lunisolar calendar. Since the stars come out at night, the celebration is held at night.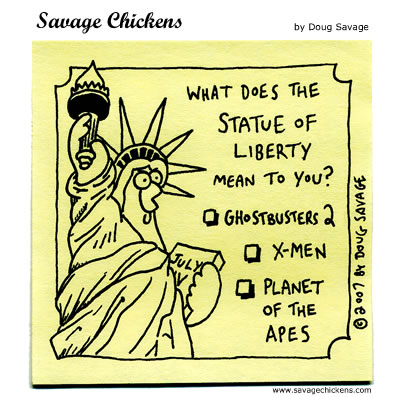 Click the cartoon to visit the Savage Chickens website.